Residential Window Cleaning Services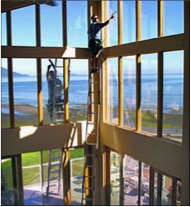 Window cleaning can be a dangerous and time consuming chore for home owners. Without the proper equipment streaks and smears are hard to avoid. Contact us today to see what we can do for you! We have the patience and the know how to get your job done right and leave your windows sparkling inside and out. When you contact us for window cleaning, you will get the best window cleaning on Kauai. We clean the glass, frames, tracks, screens, and the entire window sill.
Basically everything around the window gets cleaned. We take the time to remove and hand clean your screens with soap and water, then securely replace them back in the window frame. Close attention to detail is what sets Garden Isle Window Cleaning apart from other window cleaners on Kauai. Your picture windows will be spotless, sliders will let the light in and your beautiful island views will be unobstructed. Contact us now for an on site estimate.