Other Window Cleaning Services
Hard Water Stain Removal: Kauaʻi is known for having hard water that can leave your windows stained and spotted. If this is the case with your windows, we would love to help. We do a free test to see if your windows are treatable. Let us help you to see clear again! Removing Water Spots requires more than common or traditional cleaning methods, especially when the problem has been compounded by long durations of time. Troublesome window locations are those close to sprinklers or prone to excessive misting shortly followed by a quick drying sun. It takes qualified personnel using the most effective equipment, techniques, and cleaners to get results. Here at Garden Isle Window Cleaning we will not only remove hard water mineral deposits and get your windows clear again, but we will also seal your windows so you don't have problems in the future.
Post Construction Window Cleaning: Garden Isle Window Cleaning also specializes in post construction window cleaning for residential, commercial and industrial buildings on Kauai. We handle all types of post construction cleans from a basic remodel to office complexes and apartments to large scale developments with many homes.
Paint, stickers, glue, stucco, silicon, masonry, and dirt are just some of the things that you find covering the windows, frames and tracks of a recently completed construction project. All of that stuff must be carefully removed to prevent the windows from becoming scratched or etched and the frames from becoming marred or bleached. Contact us today for post construction window cleaning.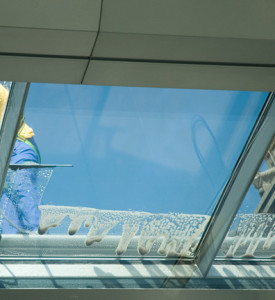 Power Washing: We don't just stop at window cleaning. Garden Isle Window Cleaning utilizes state of the art equipment and professional products to pressure wash just about any surface making it look like new. We restore surfaces to original finish, free of mildew, dirt and debris. Pressure washing exterior walls, driveways, pool decks and lanais will not just make your property look great, but it will also help to protect your investment and raise your property values. Give us a call today at (808) 631-6559 to restore your property back to its full potential.
Solar Panel Cleaning: The National Renewable Energy Laboratory estimates that solar panels lose up to 25% of their energy output due to the accumulation of leaves, dirt, dust, pollen, moss, sap, bird droppings, and water spots. Cleaning your solar panels regularly pays for itself in the return you'll see on your energy output by maintaining the rated capacity of your system. Garden Isle Window Cleaning is a local Kauai based company offering solar panel washing. We clean all brands of photovoltaic systems and solar hot water panels – residential and commercial, large and small. Our solar panel cleaning system is completely safe for people and our environment – it's just pure water acting as a solvent with no soaps or harmful chemicals. The water we use goes through a five stage filtration system so it won't leave water spots, and it's pH is neutral so it won't corrode aluminum frames. It is 99.99% pure water that has been deionized and demineralized through reverse osmosis – so it attracts impurities and washes all dirt and debris away naturally.