Commercial Window Cleaning Services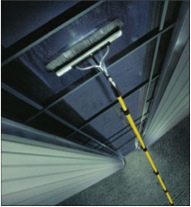 Appearance is everything in the business world. Nothing is more of a turn off than window shopping through dirty windows. Kauai's unpredictable weather and town traffic leads to excessive build up on commercial windows. Whether it be a clear view of products for consumers, a window view at the office or the look of professionalism that you were looking for Garden Isle Window Cleaning has your commercial window cleaning needs taken care of. Call us today to set up a commercial window cleaning schedule.
We offer customized service plans. We will tailor a window and glass maintenance program to satisfy your needs whether it's weekly cleaning of your glass entry way to monthly or quarterly cleanings of interior and exterior glass on your building. Together we can develop a plan to satisfy any special requirements. We'll schedule our work to minimize interference with your customers, traffic or work procedures. We are ready to make your business shine.